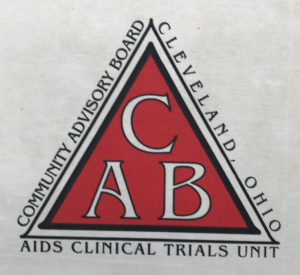 A strong, open relationship between the Case ACTU and the communities it serves has been a critical part of the success of the Case ACTU over its many years of operation. A very important part of this relationship is our Community Advisory Board (CAB). The CAB provides advice on Case ACTU trials and provides support for community outreach and education.
The CAB strives for its membership to reflect the demographics of the Greater Cleveland communities most impacted by HIV/AIDS, stressing inclusion of traditionally underserved communities. CAB membership is open to all interested community members.
The CAB meets the second Tuesday of each month, except for July and December. CAB meetings begin at 6:00 pm and end no later than 7:30 pm. For now, meetings will be held on the phone by calling 888-791-4937 and entering code 9339451 (please mute when not speaking).
For more information on Case ACTU CAB, please call 216-844-2247 or email us at [email protected].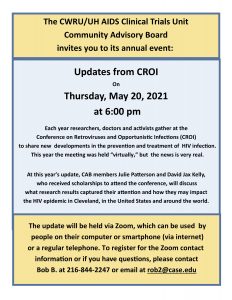 SPECIAL EVENT: Post-CROI Updated on Thursday, May 20 at 6pm
CAB members will present news from the recent Conference on Retroviruses & Opportunistic Infections (#CRO2021) and all are welcome to join; contact us for the link if you're not on the CAB list.
CAB Handbook and Training Resources
The 2016 Core CAB Handbook materials are available at the AIDS Clinical Trials Group site: https://actgnetwork.org/community/general-information/gcab
Included in the Core Handbook link is Guidelines For Community Advisory Boards; How to Read a Protocol; and a Glossary of HIV-related Terms.
Under the link on the same page, Additional Handbook Materials, fundamental documents on Patients Rights are available, including the Belmont Report, Nuremberg Code, Office for Human Research Protections; and the World Medical Association Declaration of Helsinki.
Closely related to the work of the CAB is the Participants' Bill of Rights and Responsibilities, developed by the HIV Vaccine Trials Network (HVTN).