HIV Vaccine & Antibody Clinical Trials at the 
CWRU

/UH Site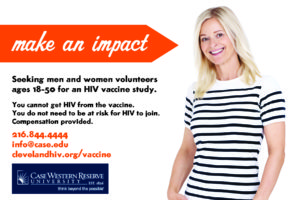 The creation of an HIV prevention vaccine has been a universal hope since the earliest years of the HIV epidemic. While past HIV vaccine trials have not brought the world its hoped-for vaccine, the results from each trial provide researchers valuable information for new ideas and strategies. As a member site of the HIV Vaccine Trials Network (HVTN), the Case Western Reserve/University Hospitals AIDS Clinical Trials Unit is proud to be a part of this noble effort.
At any given time, the Unit may be enrolling northeast Ohioans into several different HIV vaccine trials, with each trial looking for people with certain characteristics. Many of our trials do not require any risk of HIV infection to join. It is important that all people are represented in our trials: women and men, racial and ethnic communities, and sexual orientation and gender identity communities. Please continue to check our website to see if new clinical trials have started. You can also sign up for our monthly email newsletter which will let you know about the Unit's clinical trials: http://eepurl.com/quYyb
Currently Enrolling Trials:
No HIV-prevention studies enrolling at this time, but hopefully soon…. We are always eager to talk with potential volunteers and get your contact information so that when a study does open, we can let you know about it quickly.
If you have any questions about the search for an HIV prevention vaccine or a specific trial, please feel free to contact us at 216-844-4444 or at [email protected]. Unit staff are also available to give presentations to local groups and to attend health and community events and fairs.
For more information on HIV vaccines, go to http://www.avac.org/prevention-option/aids-vaccines