CROI2022 overview w/Dr. Carl Dieffenbach, head of NIAID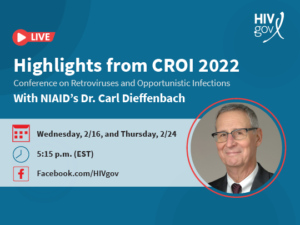 NIAID director Dr. Carl Dieffenbach reviews updates from #CROI2022 (www.croiconference.org) in this 34-minute video.
In an HIV.gov video conversation on Wednesday, February 16, NIH's Dr. Carl Dieffenbach discussed some of the pivotal HIV research advances presented this week at the 2022 virtual Conference on Retroviruses and Opportunistic Infections (CROI 2022). Dr. Dieffenbach, Director of the Division of AIDS at NIH's National Institute of Allergy and Infectious Diseases (NIAID), covered developments in HIV cure research, HIV treatment and HIV prevention. Watch the conversation with Dr. Dieffenbach here. A second interview will take place on Thursday, February 24 at www.facebook.com/HIVgov.